The
LG 60" Full HD Plasma TV
has been safely delivered to the winner, Mr Nicholas Yap!!
Nicholas and his family members have been customers at my hubby's
optometric practice
for a long time. 2 weeks before the close of the LG contest, he brought his younger son to the practice to make glasses. I also convinced him to get himself a pair of orange-coloured frame which makes him look young.
Chris reminded him to submit his entry for the LG contest. Nicholas is doing business development for a local fund house. He was not too enthusiastic because he has never won anything in his life. (Not even at his companies' annual dinner and dance events.)
But on the following week, when he came by to collect his glasses, he dropped his entry form into the lucky draw box. The rest is history. :)
Nicholas first discovered my blog when he was googling for a 'Hong Kong tea house in Katong'. He read it for some time before telling me. I did not feel comfortable that people I know were reading my blog. Now I'm not bothered by it.
LG informed me the prize is worth a whopping S$19,000!!
Congratulations to Nicholas and family!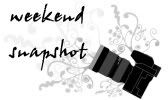 weekend-snapshot