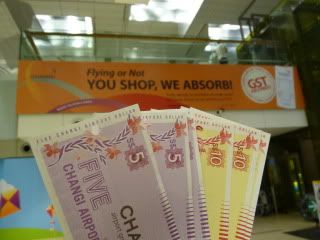 Shopping and dining at Singapore Changi Airport
As my house is a short drive to Singapore Changi Airport, my family and I love the idea of doing some of our shopping at the airport. With its "Flying Or Not - You Shop We Absorb" programme, the shops in the public areas in all its three terminals will absorb the 7 per cent local goods and services tax (GST).
Initially, my overseas friends could not believe their ears whenever I tell them I'm grocery shopping or having my fix of milk tea at Singapore Changi Airport at odd times of the day. To them, going to the airport is only to take a flight out of the country. :)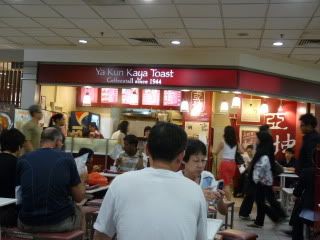 Ya Kun Kaya Toast (opens 24 hours), B2 Mall (Terminal 3)
Singapore's biggest shopping draw 'Be a Changi Millionaire' gives one very lucky Changi shopper or diner a chance to win a cool S$1,000,000 when he shops at Changi Airport - plus double his chances with
VISA
! He also stands to win $1,000 every week.
During this year's 30-week promotion period, one finalist will be drawn at the close of each month (May to November), with seven monthly finalists gathering for the grand draw in January 2012. Each finalist will win a cash price of S$5,000, return airfare to Singapore (for non-Singaporean residents) plus a two-night hotel stay. In addition, throughout the 30 weeks, one lucky shopper will win a weekly cash prize of S$1,000.
I am keeping my fingers crossed. :)
BEST INTERNATIONAL TRANSIT AIRPORT
Singapore Changi Airport
*NOTE: GST is a broad-based consumption tax levied on the import of goods, as well as nearly all supplies of goods and services in Singapore. In some countries, GST is known as the Value Added Tax (VAT).
Wordless Wednesday
First Commenter -